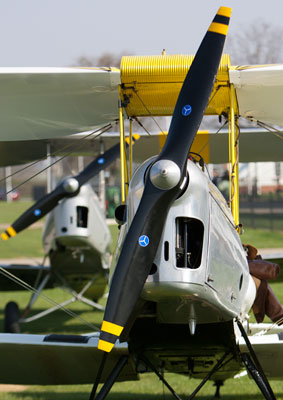 Weight Limits
16 stone/220 lbs/100 kg is the practical maximum for the AT-3; the C172 is a 3/4 seat tourer with much more generous limits (3 heavier people, 4 lighter people) - if you want to bring a couple of passengers on a C172 trial flight please contact us beforehand to make sure the total weight is within the aircraft's limits. For Tiger Moth flights the weight limit is 18 stone/252 lbs/114 kg but please note that some flexibility is required to get in and out of the cockpit; it may not be suitable for those with restricted mobility.
Pricing, ordering & validity
Voucher prices are displayed in the online shop and include VAT. Your trial lesson voucher(s) will be posted to you within a few days of your order being placed. They are valid for 12 months from purchase and can be extended at the discretion of the company for £30. Trial lesson vouchers are valid for the named recipient only and are transferable for an administration cost of £10; they may not be re-sold. Vouchers purchased may be returned for a full refund within 10 days of purchase. Vouchers must be returned with a written refund request before any refund can be made.
Booking your Flight
To arrange your trial lesson, please use the booking system or telephone Brooklands Flying School on 01604 496600; all trial lesson participants should ensure that they are in good health and if in doubt should seek the medical advice of their GP before flying. Trial lesson vouchers must be produced for inspection prior to the flight being conducted. Trial flight participants are strongly advised to telephone Brooklands Flying School on 01604 496600 prior to departing for the airfield to confirm their booking, and to make their booking at least one month prior to the expiry date to enable rescheduling if necessary.
IF you've ever dreamt of flying your own aircraft, this is the perfect introduction - or the perfect gift for a friend or loved one. Your trial flying lesson can be a 'one off' flight, or part of a longer course - you'll take control and can log the flying time towards your PPL (Private Pilots Licence).

As well as the chance to fly our modern AT-3 and C-172 aircraft, this is a unique opportunity to experience aviation in authentic 1930s style with a flight in a Tiger Moth biplane. Nothing compares with flying over the beautiful English countryside in an original Tiger Moth biplane, from a grass aerodrome that has seen pilots taking to the air in Tiger Moths since 1932.